"Thank you for sending me the Klima deodorant. It has 100% changed my life in 2 days. I have suffered for many years of embarrassment & want to thank you!" - Colleen F. (Texas)

"Hi my name is Kari and I have been using this product for 1 1/2 months. I have tried other products for over 2 years and nothing seemed to work. I used over 15 different deodorants and was very unsuccessful. This product is so awesome and I don't feel embarrassed anymore about body odor. It works great for me. Thank you for all your help." - Kari M. (Santee, CA)

"WOW! I am hooked! It's been a little longer than a week which I apologize for but wow! I have been going everywhere, wearing my favorite shirt I've never been able to wear in public, but now I can!!! I sent you another picture today taken a few days ago. The picture was taken about 2 and a half hours after applying Klima and I was outside in 90 degree weather for about an hour before coming inside to take a picture. I wore the same shirt so you can see the real difference. Talk to you soon! Thank you!" – T. Norman (Austin, TX)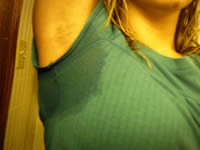 Before Klima After Klima
"If you are one of those people who suffer from what I call "stinky feet syndrome", you have to read this. I am 56 years old and can't remember ever not having stinky feet, regardless of all the foot sprays, powders, excessive washing and buying only good leather shoes - Still, stinky feet and very embarrassing. When my daughter gave me a gift certificate for a full body massage for Mother's Day a few years ago, I refused to let them touch my feet, using the excuse that my feet were very sensitive, and I would not let anyone touch them. Now, thanks to Klima deodorant, I would welcome someone to give me a foot massage. Admittedly, I was skeptical that anything could help my problem, but when I went on line and read about Klima deodorant, I decided I'd give it a try, and lo and behold, no more stinky feet. They actually smell good. So, my advice to those of you who suffer from "stinky feet syndrome" as I did, "YOU MUST TRY IT". It will truly liberate you from the self consciousness and embarrassment you have been through." - Nancy M. (Kimbolton, OH)
"I just want to say how happy I am with Klima! It has changed my life, I don't have to constantly worry about sweaty wet armpits and ruining new shirts! I have told everyone! Thank you!" - Christine P. (Verona, WI)
"Just got this product last week and I try it and all I can say is Thanks cause I tried other products and they didn't do a thing for me, but this stuff really does work, now I can take off my shoes and my feet don't smell and again Thanks." - Frank N. (Eagle Lake, TX)
"I am in Australia and am keen to buy a bulk amount of Klima (I have tried one bottle and it is AMAZING)." - Sarah V. (Southern Australia)
"From the first day, I noticed a difference. My armpits used to be very sweaty and they were totally dry all day long. I can't even tell you what a relief it is to sit through a meeting without being embarrassed!" - Mark W. (Madison, WI)
"I used to destroy all of my white shirts by using so much deodorant. I would always end up sweating my deodorant off and turning the underarms yellow. With Klima, this is no longer a problem. Thanks Klima!" - Mike B. (Los Angeles, CA)
"My armpits used to get so wet during the day. After only 5 days of using Klima, my armpits are so dry...I can't believe it! I went to Karate practice the other day, and after my class my armpits were 100% dry! If you could only see how wet I usually am after practice. I figure if Klima can keep someone like me dry during a workout, it can probably keep anyone else dry that tries it." - Kai Y. (New York, NY)
"Hey I got my Klima product and I'm amazed that it actually works and I'm really thankful... I am looking forward of purchasing more of Klima products." - H. Wang (Sacramento, CA)
"Hi, your product arrived at my address in Auckland yesterday afternoon. Thank you for your help in this. Very happy and it has restored my faith in purchasing online outside of New Zealand. Cheers!" - Sue (Wellington, New Zealand)
"My hands seem to sweat really bad when I get nervous and then it lasts for quite awhile. When my hands do break out in a sweat, they can be dripping, and then I try to keep my hands in my sleeves or fold my arms to dry them off a little bit. After that, they go from dripping to just really damp. I've had this problem my whole life; it's pretty bad on my feet too. I end up changing my socks about three times a day. My doctors basically told me there's nothing I can do. They don't recommend surgery and basically I've been using Drysol off and on for the last 10 years but it hasn't been very successful. Now, using Klima, I am dryer than ever before in my life." - Beth F. (Centerville, IA)
"...Most importantly I am not sweating at all really. I gave it the ultimate test in my opinion. I wore a shirt that i would have never been able to wear to a meeting the other day. Oh my gosh I didn't sweat at all. Mr. Kitchell I have many thanks to you. I am so excited. I have a lot of really nice clothes that I can finally wear and feel confident in." - Loyal Customer (Minnesota)
"Hello, I wanted to tell you that I returned my bottle of Klima to you last week because it was too strong for me - and I wanted to let you know that I am very impressed by your customer service. You stood by your guarantee and refunded my entire payment. Thank you!" - Mary K. (Salt lake City, UT)
"I had tried everything from men's to women's prescription strengths and nothing had worked or even phased my sweating problem until now. Thank you KLIMA!" - B. Endres (Wyoming)
"Hello there, I Just received your item on time and in perfect condition. Thank you." - A.P. (Australia)
"Hi, I've been doing what u said and all good so far so fingers crossed and no sweat I'm so happy it was sooo worth it! Thanks." - N.S. (Great Britain)
"I just have to send this to express my gratitude. Your products and company are great. You guys are really on top of things. I have had problems sweating under my arms since I was about 10. I am 26 now and the problem has been resolved. I think I am still in disbelief! These products really work! The people that make them and send them hats off to you too. Very fast, friendly, and great service. Thanks Again from Murray KY." - L.M. (Kentucky)
"Yes, I am experiencing great results after two weeks of Klima. I had a slight breakthrough Friday but no odor associated with that episode then it dried up again. I recently got married and I really need to stay on top of my issue because I'm trying not to get the Botox injections under the armpits. Thank you." Sheri H. (Phenix City, AL)
"I have the Handspray and it works! I really thought that this was gonna be another lame product that when you get it, but it's not! It really is worth my money. I don't need to hide my sweaty hands anymore and i can hold my friends and boyfriends hands without embarrassing myself or wiping them on my jeans!!! I finally found something that helps me and works!!!!" - Brooke G. (Hillsborough, NJ)
"Just wanted to let you know the products you sent are still working great. I am giving a speech tonight in front of a large group of people. Thanks to your company I don't have to worry about getting embarrassed. You said to let you know when I needed more HyperDri or Bonedri. I will be needing more of the HyperDri soon. Is it on the market yet? Just let me know what I need to do to order more or whatever. Thanks so much." - R.S. (New Hampshire)
"This keeps me dry SO MUCH BETTER than anything else! It's a little spendy, and it's applied differently than normal deodorant (you use it at night, before you sleep) but it's fabulous! Non-annoying scent too! "-W.S. (New Orleans, LA)
"I am a sweaty 38 year old woman. I have tried every deodorant under the sun. Secret worked OK - but a bottle lasts like 2 weeks and it stinks. Klima Antiperspirant is more expensive, but it keeps people like me (with hyperhidrosis) totally dry. And - it's unscented - so I can wear my perfume again!! Yay!" – S.G. (Seattle, WA)
"Klima Antiperspirant - It's the best I've used. Odorless and lasts up to five days without a prescription!" - Sarita E. (Cancun, Mexico)
"If you sweat more than you should, this is the product for you! I've struggled with underarm wetness and odor my whole life. I'm an athlete, a tiny woman who sweats like a cow. It could be 40 degrees and I'm sweaty. I gave up on white shirts, the whole nine yards. I was weary since I've tried prescriptions, roll on, spray on, gel, clear, all of them. I put this on at night. Wake up fresh, no sweat! I've been using it for 2 weeks now and proud to say I wear white again, and can't wait for the summer heat. BRING IT ON!" – A. Brown (Cleveland, OH)
"I'm going to be really honest: I sweat like a pig. I have hyperhidrosis, and it makes me feel disgusting. This is the only non-prescription strength product I can use, and it works!" - D.D. (Chicago, IL)
"I am not sure you remember me, but you kindly sent me a kit to try and see whether my perspiration would reduce. I have been using this product for 6 months now, and WHAT A DIFFERENCE! I sweat A LOT LESS, and there has never been a time in my adult life when I was this happy with an ant-perspirant product." – Camilla D. (New York)
"I wanted to let you know that I received our package last week, and I have been using the products as directed since. I can already see much improvement, which is amazing to me since I sincerely have tried everything else available short of Botox and surgery before. I will continue to document my progress and keep you informed. Thank you so much. You are literarily changing my life for the better, and I could never thank you enough for this." – Camila L. (Orlando, FL)
"I just wanted to say that by far Klima is the best antiperspirant that I have ever used, and I will be order ing more later." – Gary W. (Minneapolis, MN)
"Hello, Things are going good. I'm very happy with this product it is still working for me. I can take my shoes off now and don't have that odor anymore. All I can say is Thanks." - Frank N. (Austin, TX)
"Thank you so much! My daughter is 16 and inherited my sweaty hand gene. For teenagers it can be an embarrassing thing so this product has been a blessing for her. I appreciate the excellent service and responsiveness." - Nancy D. (Sacramento, CA)
"Anyone that is suffering with severe underarm sweating Klima deodorant is the best. I had this problem ever since I was a teenager. I have tried prescription Drysol, secret clinical protection and other numerous antiperspirants and deodorants and nothing works like Klima deodorant. If I didn't use Klima my next step would have been surgery to remove the sweat glands, yes it's that bad. Have you ever walked outside and just started sweating? By the time I arrive to my workplace my armpits were soaked. I always wore dark colors to hide the sweating. Now I can wear pastel colors and whites without being embarrassed. Thanks Klima for giving me a product that works and provides me with the lifestyle change of wearing different colors of clothing." - P. Darden (Marion, VA)
"Things are going very well for me! I like the product so far, it is doing very well for me. It is just what I needed. I want to wait, till it gets really hot outside to see if the product truly works. I thank you so much for checking to see how satisfied I am with your product... If possible, I will give you an update on how well the product is doing for me in the months to come." Toni M. (Cleveland, MS)
"I purchased this product about a month ago and have been using it since. I love it and thank you so much it has taken away some social awkwardness and I am spreading the word. Once again thank you for such a great product" K.B. (Houston, TX)
"Oh wow. Thank you so, so, so much for your company's generosity. I am very humbled and will definitely be in touch with you about how it works. Once again, thank you SO much. Regards," - Tessa (Cape Town, South Africa)
"Hi, Thanks for checking in. It's working great and I decided not to have Botox injections done. I will just be sticking with the Klima. Thanks again - it's been a lifesaver!!" -B.R. (Baltimore, MD)
"Hi Guy! Thanks for your message. It's what great customer service is all about! I have used Klima, it works, and I'm very grateful. I'm glad I found your great product, and thanks again for your e-mail. Have a nice day!" – Dawn D. (Baltimore, MD)
"THANK YOU VERY MUCH!! I am a very loyal customer. I love your product and this is the first time that I have experienced your extremely helpful customer service. The quality of service that you provide is exceptional. Once again, thank you for everything!!" - Jessica G. (Macon, GA)
"I want to thank you for this amazing deodorant!!! I sweat all the time. If it were 100 degrees below zero, I'd still be sweating. Sweating has negatively impacted my social life ever since I was a freshman in high school. I ruin shirts, I can't buy cute shirts that I want, I have to wear jackets and hoodies just to cover my sweat marks. All of my shirts are black because they hide the sweat stains, but they eventually get ruined as well when my deodorant dries and leaves white rings underneath the arms. I am only on day 3, and can already see a difference. My shirts are a little damp throughout the day, but that's much better than soaking wet, dripping with sweat. Plus, I live in Florida, so a little sweat is to be expected. I can't wait for my skin to be able to tolerate the full 5-6 spray application so I can see the FINAL results. Again, thank you, and I will definitely tell everyone about Klima deodorant." - Kelly (St. Petersburg, FL)
"To Whom It May Concern: I purchased the underarm Klima from your UK distributor. I have spent my entire adult life in distress over my excessively sweaty underarms. I have tried every product that my Doctor could supply & the only thing that worked for me were Botox injections, which I was only able to get 3 times a year and that only last 3-4 weeks. Your Klima Deodorant is superb!!! It really works! Within 3 days of application it worked & I am still in shock & still keep checking to see if the sweat patches are there. This has changed my life & I am truly grateful to you. Kind regards," - Amanda (Gloucestershire, UK)
"I have received the Klima deodorant a few days ago and I would like to thank-you very much. So far I love this product and it is something that I have been looking for, for a long time. I will place an order again for 2 more bottles." - Toncika (Zagreb, Croatia)
"Ok yeah! I'm starting to see some changes now, thanks a lot Klima Deodorant! And i would like to order two more bottles" - Caro (LA, California)
"Thanks, just the cure we needed for my sweaty son! By the way, the deodorant kind of backfired, it works so well that Matt no longer dresses out for gym since he never smells afterward.....15 year old boys are always looking for a 'way out' of doing anything, even if it's not dressing out for gym! But it is true, he never smells bad!" - Lisie (Portage, IN)
"I ordered this product and have been using it for about 3 days and I LOVE IT. I used to sweat like crazy, i could never wear a gray shirt because my sweat marks would show. Since using Klima, i don't sweat at all. Thank you so much!! i play hockey, soccer, and basketball. THIS IS THE BEST PRODUCT IN THE WORLD!! I feel like a new man ha. It's amazing." - Chris C. (Westfield, NY)
"Thank you and your product is the best!" - Sharonda B. (Lauderhill, FL)
"Thanks so much for the follow-up email. I did receive the product and have been using it since. It works wonderful in comparison to other products that I've tried. I have an extreme case of heavy underarm sweating where I sweat all the time, I'm talking like beads of sweat that just like run like a faucet. This product helps a lot!" - S. Hann (Pennsylvania)
"Thank you for your concern and fast response. You are a terrific company." - J.H. (Arkansas)
"Thanks very much. The product is working well. Thank you so much for all your help." - M.T. (Toronto, CA)
"Thank you. It's been a great experience using the product. It's been perfect and has really made a huge difference this summer. I appreciate your checking in and thanks." - B. Roth (Baltimore, MD)
"Hello, Klima is the most amazing thing ever. Can I sell it for you guys in Jamaica?" - Terri K. (Jamaica)
"Thank you for your concern, So far everything seems to be going well and I couldn't be happier. My daughter's dentist told us that the medicine that she was taking for her sweaty hands was causing her mouth to be dry therefore creating more plaque and bacteria in her mouth than normal. She has 9 cavities due to the lack of saliva in her mouth...WOW. Now we are using the Klima hand spray and she is dry all day, which make both of us happy. We will continue to buy the product as long as it's on the market. Thank you for making such an effective product. Ms. Justice" - B. Justice (Springfield, OH)
"It works fantastic! I love this stuff! I use it about every 3 days! Totally awesome! Thanks!!!" - Jill P. (Schaumburg, IL)
"G'day Guy, Thought I'd give you an update. Things are finally getting better, becoming dryer and dryer as the days go past. I think the difference may have been my underarms were not 100% dry when I was applying the product. Hoping within a few weeks wetness will be a thing of the past! Thanks a lot!" - Reyne" - Reyne D. (Western Australia)
"Hello i found Klima on the internet about a year ago and it has literally changed my life. I've got my confidence back and am enjoying life a whole lot more due to your product. It's the only product I've ever had work for me and trust me I've tried them all just wanted to say thanks." - N. Bauer (Houston, TX)
"Hi, I think your product is GREAT, I've used the product twice now and so far it giving me a fresh feeling. I really like your product and it will hit the market big. Thanks." - A. Nguyen (North Hills, CA)
"I absolutely love this product. I am officially a lifetime customer. Thanks again!" - M.V. (Beaverton, OR)
"I am using the Klima HyperDri for sensitive skin and its working great. Thank you so much and I will be reordering very soon." Kay R. (EL Paso, TX)
"I have ordered 2 more bottles of the Klima antiperspirant and I have to say that I am very impressed. I suffer from extreme hyperhidrosis and I have even tried Botox treatments which seemed to me worked about 50%. I have been to many dermatologists who suggest topical cream deodorants that work on my only about 30%. I really like this product as it is quite strong and unscented. I have found through my years of trying almost every product made scented products only make the problem worse after a few hours. I have been testing different antiperspirants/deodorants since I have been 13 years old. Thank-you and kind regards, Toncika" - Toncika L. (Zagreb, Croatia)
"We love Klima deodorant! We are a family of sweaters and I would love to hear more about all of your other products. Many thanks." - Betsy Kleinman (Dallas, TX)
"Thank you! I will do, thank you so much! Great customer service!" - JP (Boston, MA)
"Hi. It's been about 3 weeks and let me say...its working!!!! I am very happy with the results of the combined products and can't wait for the full effect. Thanks again!!!" - S. Marie (Redford, MI)
"Hello, Well, I have been using the HyperDri for the past 4 days along with the Bonedri deodorant and I am seeing amazing results already. I have only sprayed the Klima antiperspirant once this week since I started using the other products. I have not detected any wetness or odor under my arms - and that is so funny because I used to be wet and smelly there. I keep checking every few hours because I just can't believe that after all these years something finally works! Now I am going to put your product to the test. I have a party tomorrow and my dress is sleeveless and I sweat when I dance. If it can keep me odor free after that I am hooked (even though I'm hooked now just on a daily basis). Thank you so much for sending me these new products as they have saved my social life! People like me won't have to suffer anymore." - L. Payne (Prince George, VA)
"Thank you very much. Your customer service is top notch. I am very impressed!" - R. Snyder (Clearwater, FL)
"Hello, I am quite satisfied with the Klima confidence Handspray. I use it almost every day and it works well in most situations. Thanks, Don" - Don I. (Pearl City, HI)
"Hello, how are you? I am using the HyperDri serum and it seems to be working great." - Farah R. (Ontario, Canada)
"I use Klima deodorant every 4-5 days and surprisingly it works great. I'll even forget to put my regular deodorant on sometimes and I will be fine. Thanks for everything and I look forward to ordering this product in the future." - Jackie J. (Rumson, NJ)
"Dear Klima, Thank you for your email. I like your product. Let me tell my story. I moved to UK to build a career and I was very successful. When they promoted me to a manager, the problem with horrible odor started. I could not help myself and using any products was just making the situation worse. I went to a doctor there and he said I should go and see a shrink!!!!! I was so disappointed that they didn't do any research and see what is causing the problem. I had to resign and move back home to Slovenia. It was horrible moment in my life. My professional, social life was destroyed. When I came back home I was going to many doctors and they could not find a reason, ever worse, they did not believe me that my feet smell. I am very clean person and I could not do more about my hygiene than I am doing - but any contact with the shoe (leather shoe) was creating a horrible chemical smell. I am very girly girl and you can just imagine how this problem has changed my life. No social life, my friends do not even recognize me anymore. I just stayed at home as much as I can. I started using your Klima deodorant products and it is working! No more odor! Thank you for all your help. Best regards, Tjasa" - Tsaja, I. (Krsko, Slovenia)
"Things are going better than expected. I am using the Klima Deodorant and the Hyper-Dri. I am already about 90% dry - 100% odor free. My pits are not 100% dry yet, although there is a huge difference from before I started using the products. Thank you." - Sandra H. (Versailles, PA)
"Hello, Thank you very much for the follow up, it feels good knowing that Klima cares about their customers. I am very happy with the Antiperspirant." - M. Miyasaki (Ventura, CA)
" .....IT'S A GREAT PRODUCT . I AM ONE HAPPY CUSTOMER ....THANK YOU SO MUCH...I AM LOOKING FORWARD TO RECEIVING MY NEXT ORDER" - Patricia L. (Philadelphia, PA)
"Hello again, I've received the hydrogel, and I've applied it last night. Today I applied Klima in the morning and headed out to my errands. I noticed immense reduction in sweating in just the first use. I am looking forward to the future and to see what happens. I'm pretty sure only good news will I bring to you about my progress. Thanks again for responding promptly to all my emails and I will keep you posted on everything. - Josh B. (San Antonio, TX)
"Hello ~ Thank you so much everything is working wonderfully! I am using your foot product and my husband is using your under arm product. We have never been so happy. Thank you and Klima!!!!! Much Appreciated. " - Meegen M. (Addison, IL)
"I am a very satisfied client of yours and I first want to express my appreciation for your deodorant. The product works extremely well and has resolved my perspiration problems and is far superior to any other deodorants I have tried." - Anthony L. (Middle Village, NY)
"We sure do love your product. It is the only thing that has worked on my husband's feet. He is the manager of the meat department in a grocery store and is constantly on his feet. His feet get covered with nasty stuff and then get wet when the clean-up is done. Your spray has kept his feet from making me leave the room when he gets home and takes off his shoes and socks. Thank goodness! We are hooked on this product for life!" Lisa R. (Kent, WA)
"I have been using Klima Deodorant. It's a miracle I say. Thanks again and be on the lookout for my order within the next few weeks." Kat K. (Bronx, NY)
"So far this deodorant is the best product I have ever used. I have had a 95% improvement which is great considering how bad my underarm sweating problem was. I will be ordering more shortly - do you have any retailers in Australia?" – Gary B. (Golden Grove, AU)
"I'm really enjoying HyperDri! It took a week and a half to fully work with a twice daily application. Now - at about week 2 - it works with a once daily application! I'm extremely pleased and expect to continue using it. No other aluminum-free deodorant has worked for me. Thanks again" - Laura M. (Hollywood, CA)
"I would like to say thank you and I will make sure to give you updates every week if that is okay with you. It hard to find companies that provide great customer service, I will recommend you to many others." - A. Cornelius (Jacksonville, FL)
"I have had a chance to use Klima. It is working wonderful in that I no longer sweat from my underarms." – Gail R. (Arcadia, WI)
"Thank you for such great customer service and a great product that has really helped my self esteem! I am a college student and I am studying abroad in Mexico for a year. Thanks!" - F Polizzi (New York, NY)
"Hello, I have used Klima only twice so far and I am very happy with the results. I would like to know about your other products as well, in fact, they are so good that I was thinking of being your distributor here." - Sultan S. (Dubai, UAE)
"I have purchased Klima in the past and i LOVE the odor and wetness protection" - Nicole W. (Chicago, IL)
"I have used your product and am very happy with the results I have used many strong hyperhidrosis products off and on over the years. I would be very interested in any help you can give me as hyperhidrosis has been in my life since I was a small child and I do know the psychological pain and misery it causes - so thank you for such a good product." – Joanne J. (Ann Arbor, MI)
"Hi the Klima is working pretty well. I have noticed that I'm not sweating profusely like I was before. I am interested in trying the Bonedri so I can have a strong antiperspirant that I can wear every day." - B. Rhea (Austin, TX)
"The deodorant is working great!!" – K. Wester (Duluth, MN)
"I just have to tell you that as funny as this may sound, Klima has changed our life! As you might remember I sent you an email because my 10 year old daughter was self conscious about sweat stains. Kids were teasing her and she was wearing layers of clothing, in almost 80 degree temperatures I might add. Since using Klima she is a different person. She does not sweat a bit! She started using the product back in March prior to our spring break trip to Florida. Unfortunately we left the bottle of deodorant in Florida and it was devastating. Obviously I had to reorder more EXPRESS and now have a couple extra bottles to spare! We are even trying the foot spray just in case! I get texts from my daughter telling me how happy she is that we found KLIMA!! Keep up the great work!" – K. Wogoman (Tipp City, OH)
"I must say that Klima's customer service is superior! Thank you for offering the additional products and their regimen information. Your company truly stands behind their guarantee with quality service." - G. Wismar (Kyle, TX)
"Thank you very much for your quick response and the actions you took. You clearly show respect for your customers and this is a very comforting feeling. I am sorry if I was at all harsh in my first email it was purely frustration. Thank you for the refund that was very generous of you as well. The address is correct so I will let you know when the package arrives. Thank you again and I look forward to doing business in the future." – J. Morelli (Lincroft, NJ)
"Thank-you for your excellent customer service. I have placed my order and can't wait to receive it in the next week as I was able to select that option. Take Care!" - Shahir, A. (Ontario, Canada)
"Thank you so much for the email and the new order! It arrived today in great shape and I look forward to using Klima (hopefully for a long while). I truly appreciate all your help and refreshing customer service!" – B. Moody (Mesa, AZ)
"I received my package yesterday. I am so impressed and pleased with the customer service you and your company offered me that I would work for you guys J! My manager recommended me your product and did the same to my co-worker. I will make sure to tell all my friends about KLIMA. Take care." – I. Colon (Kissimmee, FL)

"I just worked out on the elliptical machine for an hour. I barely sweat the entire time! Pretty amazing results for just having the product for only 3 nights! Thanks; it's off to a fantastic start..." – J. Hytoff (Gainesville, FL)


"I just wanted to say that i am so happy with your product. I think there should be a commercial about this product. I was thinking of Botox but now that i found this product I will stay away from Botox. Thank you." - Jackie G. (Sacramento, CA)
"Thank you and I appreciate you and your company very much and love your products." - Kay R. (Boise, ID)
"Thank you so much for the response! This information should help me a lot, it means a lot that you (and your company) cares so much. Take care and have a wonderful summer." Anne-Marie (Grand Rapids, MI)
"Thank you, I received it and it works perfectly. I have even given your website to a few other people this weekend that were in from out of town and had the same problem." – Sally L. (Hoffman Estates, IL)
"We are loving our Klima deodorant and the Bonedri. I am a firefighter in Volusia County and our daughter plays basketball and she travels all over doing so. So needless to say we are a very active family. We do not suffer from hyperhidrosis. We just like not to have any smell at all and it is very hard to find an over the counter deodorant that truly keeps us dry and keeps us from smelling any worse than we do LOL (her during basketball games and practice and me during and after structure fires, brush fires and all the rest or the outside work). Between perfume and our smelly lotions they don't always mix well with just any deodorant, which drives me NUTS!!!
I have even gotten my husband to try it and my best friend and they love it also. I was wondering if you could send us some samples of your products. I will be sure to share with the other guys at the stations also." – A. Spain (DeBary, FL)
"Hi, I'm Diana! I always order Klima underarm deodorant. I think it works great. I told a bunch of my friends about it. They got so excited!" – Diana S. (Addison, IL)
"Hello, we finally opened the box that you send us and found two more bottles of Klima. THANK YOU so much for the extra one. Your customer service is awesome! I will definitely spread the word about your company, the quality of your product and the great people that work there. Thank you so much." – L. Rawls (Kent, WA)
"It is working good. I have been using the gel at night and the roll-on in the morning." – A. Cornelius (Jacksonville, FL)
"I have purchased Klima in the past and I LOVE the odor and wetness protection." – N. Walz (Monrovia, CA)
"The deodorant is working great!!" - K. Wester (Duluth, MN)
I have used your palmar hyperhidrosis spray for about 6 months now on and off and I really like your product. I think you are the only company out there that offers relief for people with excessively sweaty hands so I was pretty happy when I discovered your product. In the heat of the summer or when my sweating gets really bad, my hands will literally drip with sweat. I have a very extreme case of hyperhidrosis on my hands and feet, so although your product doesn't completely stop my sweating in the warmer climates or places where there is a lot of humidity, but it does help, but the current product is sufficient. Thanks!" – A. Wiley (Stanford, CA)
"Dear Klima I purchased some of your regular Klima antiperspirant a few months ago & was so impressed I wrote to you to share my joy!! Amazingly, the President of the company contacted me & insisted on sending me a free bottle of the Hyper-Dri Aluminum Free antiperspirant which is brilliant! I cannot tell you how impressed I have been as usage of the regular antiperspirants can make my armpits too sensitive and itchy, thus the aluminum free is perfect for me!! Also, I see a specialist consultant in the UK for my hyperhidrosis. As promised, when I visited my consultant I took all the literature I was sent & showed her my bottles of what works for me & she was extremely interested to hear of my results - previously Botox are the only things to have worked for me. She took the literature away to discuss with her colleagues & to see about whether this is a product the UK's National Health Service might be able to supply to sufferers. I really hope it helps other people here in the UK who don't have anywhere near as many options as you in the USA seem to have. Kind regards Amanda Price" – Amanda P. (Gloucestershire, UK)
"Hello I have been in two television documentaries for hyperhidrosis: Hidden Life's I Have an Embarrassing Medical Condition, aired on TLC and Sweaty Betty, aired in the UK. My daughter and I suffer from primary and generalized hyperhidrosis. I wanted to let you know that your Hyper Dri Facade has not only helped with my daughter's sweating but also has gotten rid of her bad acne on her forehead. Wow! We had been treating her with other products but since she has been using Façade, she is clear!!!!! I am currently using your HyperDri antiperspirant and your Klima. Just amazing! – Anne Schouveller. (San Antonio, TX)
"Klima works very well for me! I apply it after I take a shower, which can happen every other day or every day. Thank you so much for making this wonderful product." – D. Nelson (Albert Lea, MN)
"This Klima deodorant helps a lot." C. Bagwell (Winston-Salem, NC)
"I wanted to let you know that I have no rash or irritation. I'm using the aluminum free stuff at night before bed, and the Klima spray in the morning. I'm starting to notice less and less sweating!" – B. Thomas (Hamilton, MT)
"Wow, thank you so much!" – Katrina B. (New York, NY)
"Klima works so well that I've gotten my old salesman confidence back, as you see by my new title below. Be assured that I'll be in touch, and I can't thank you enough for solving that embarrassing problem I had. Thanks and God Bless." - B. Elliott (Petaluma, CA)
"I'm very happy with the product and will be reordering. Thank you!" - Beverly B. (Newaygo, MI)
"Here's a bit of an update on how the Klima Hyper-Dri is going...I must say that I'm quite impressed with it considering it's aluminum-free!! Mostly I have no sweating under my arms whatsoever. You may notice that I've just placed an order for a few more bottles of the Hyper-Dri. Thank you very much for your great help." – B. Phillips (Queensland, AUSTR.)
"Hi, I am enjoying your product. Thank you very much. It is effective." – B. Yarmeto (Toronto, CN)
"Thank you. Klima is working great!" – B. Roth (Baltimore, MD)
"Hello, my 13-yr-old daughter has Type 1 Juvenile Diabetes. Unfortunately, one the side-effects of this disease is increased body odor due to her compromised endocrine system. When my daughter comes home from school she absolutely reeks!! We have tried all the "clinical" strength deodorant/anti-perspirants on the market...no help. I ran across your website while I was searching for a solution, and purchased 6 bottles. Thank God we finally found Klima!" – C. Sullivan (Bloomington, MN)
"Here is my Journal of Progress – Klima Deodorant, Bonedri, Iceover and Hyperdri
· Day 1: Could notice change on the very first usage. Used as directed. Soap is very good as a drying agent. So far no rashes or irritations of any kind. Still some sweating, but noticeably reduced.
·Day 2: Sweating reduced even more. Love the smell of the roll on deodorant. Klima spray and Bonedri take a little long to dry.
· Day 3: Same as yesterday. Very pleased with the fact that the deodorant does not get on my clothes.
· Day 4: Much better results than ever. I did not sweat at all today.
· Week 2: Klima kit is fabulous! No sweating, no worries, no embarrassment.
· Week 3: Not much sweating, very happy with results.
· Week 6: Continue happy with results.
· Week 9: Forgot to wear the nighttime gel a couple of days this week. Did not notice too much of a change when that happened.
· Week 12: Have been using Klima products now for a 3 months and never did I have a kit as effective as this one." – C. DeMedici (Glen Cove, NY)
"Thanks for the info. And by the way…no stinky feet today! Thank you! I haven't had stinky feet since I used your Foot Spray. I'm pretty darned happy about that. If you need a guinea pig for your shoe spray I think I might make a good candidate J. Thanks for a great product." – Carrie M. (Brooklyn, NH)
"Hello. Got the products at the start of the week. I tried them out all this week and it works!! You don't know how much this means for me. Thank you, thank you, thank you. Chelsea :) :) :)" – Chelsea L. (Tauranga, New Zealand)
"I thank you very much for your quick response. I can tell you really believe in your product. I thank you whole heartily since you know how tough and frustrating it is to deal with sweaty hands. I have to commend you and your service. I have not received this type of service before and I thank you." – C, Misa (Lincoln Park, NJ)
"Thank you. So far, my daughter is pleased with the hand spray results. I hope it keeps working well and we will continue doing business." – C. Perla (Easton, PA)
"I wanted to relay how pleased I am with your Klima products. I am a medical doctor specialist in gastroenterology and have been using more protective clothing during medical procedures. We wear heavy gloves and booties in operating rooms. The Klima hand and foot sprays have markedly reduced perspiration. I am using the sprays daily, no irritation, cracking or dermal breakdown of any kind. I have recommended it to many patients." - Daniel J. Adler, M.D. (New York, NY)
"I love using Klima because it controls my sweating." – Daphne C. (Memphis, TN)
"Thank you so much, you have great customer service skills. As a result I will always continue to shop with you when your offers come up and certainly recommend you to my friends and colleagues." – D. Darrington (Westminster, United Kingdom)
"Thank you for the follow up! I love this product, it has worked wonders for Me." – D. Vega (Bronx, NY)
"I have been using the Klima antiperspirant and the Bonedri. I've been using both going on two weeks now and I'm very impressed with this product also. P.S. I have referred a few people that share my problem to your site." – D. Roberts (Deltona, FL)
"I love this stuff. I've gone through about 15 of them over that last few years. I can go a couple days without using it. I will continue using this product." E. Mac (Signal Hill, CA)

"Trust me, I would use a dozen products if they solved my problem. I am so happy to have something that works so well for hyperhidrosis sufferers." – E. Santana (New York, NY)
"I apply HyperDri after I shower daily, and yes, it keeps me dry and odor free." – E. Romero (Wilmington, CA)
"Klima Surefoot Spray works great. Applying every 4-5 days with complete resolution of perspiration issues." Frank L. (Portland, OR)
"I am using the Klima and it's going well!" – S. Thompson (Oak Park, IL)
"I am finding the underarm antiperspirant works very well." – J. Wynwood (Lauderdale, Australia)
"I've been using Klima Antiperspirant for a while now and I have to say I think it works great. I am extremely happy and I will be placing an additional order. I have to tell you that this has been my favorite product of the year, thank you. I really wish I could see your products sold all over." – J. Drucker (East Islip, NY)
"Hi, I really appreciate a company that is obviously committed to their product and determined to make customer service a priority. I love Klima! It has drastically changed my life and I can't even begin to explain how thankful I am for this company." – J. Carney (El Dorado Hills, CA)
"First of all, I would like to thank you for showing me how committed to your customers you really are and personally I am very impressed." K. Stacy (Wooster, OH)
"Thanks so much. I love this product! It's literally the ONLY thing that works for me! I so appreciate your prompt responses! Excellent customer service (especially since it seems to be a dying art these days)!" – K. Hetland (Westlake Village, CA)
"I ordered the Surefoot Spray for my daughter. She's told me it works really well for her - she's a volleyball player." – K. Pickering (Tujunga, CA)
"I have been sweating uncontrollably for the latter part of my life and just got Klima and am AMAZED at how well it works. I've gotten Botox twice and the second time it didn't even really work - this stuff worked better than the Botox I paid $1000 for! I keep thinking it's going to stop working but it just continues to amaze me. I wore a turquoise sweater I bought 2 years ago and hardly ever wear because of sweat marks and was completely dry and sweat-mark free all day even after running errands everywhere. I just want to tell you how great this product is and after trying everything else I am seriously so grateful for this!!!!" – K. Bateman (Bronx, NY)
"I love your company. You respond so quickly and take care of things so well. Thank you and I appreciate your help and love your products." – K. Roach (McKinney, TX)
"Hello, I tried the Hyper-Dri and the Bonedri and it works perfect. No rash...Awesome...I will be ordering more!!! You are the best!" – Kari M. (Lakeside, CA)
"Klima Deodorant is working great for me. Other products I have tried worked for a while and then stopped being effective. So far, so good with Klima! Thanks." - Laura S. (Washington, DC)
"Wow - thank you for being so nice! I will make sure I put a great review in for your company. Thanks Again!" – J. Lewis (Le Mars, IA)
"Hello, I have been using the Klima deodorant for the past two weeks. It's great and is working fine. Thank you very much." – Lina C. (Portland, ME)
"I just wanted to inform you that I got the package yesterday. I wanted also to thank you for your help and to let you know that I am very satisfied with your service. Thanks again." – Maria S. (Athens, Greece)
"I applied Klima last night, and I am happy to say that there was almost zero itching and no redness today. So it has gotten drastically better than from using my old product, and I will stick with this product. This product has exceeded expectations. It works great." – Matt S. (Calgary, Canada)
"You have an amazing system going!!! Everything is great I just had another friend order and my other sister in law. My husband and I continue to tell people about it and they are ordering. I hope things are going well!!" – Meegan M. (Addison, IL)
"Hello, Thank you so much for the Klima! I love the product. When I ran out, my boyfriend ordered me another bottle."– M. Meador (Raleigh, NC)
"Thank you I really appreciate it. I absolutely love your product and can't live without it!! And I am sharing it with friends and family." – Neil B. (Houston, TX)
"Klima deodorant is working wonderfully. I am so glad I bought it. When this can runs out, I will definitely order another. I will be recommending it to my doctor so he can tell his patients about it." – Olivo C. (Woodridge, IL)
"Thank you for that, you are very dedicated to your business and your products. So far so good, in terms of results from the Klima deodorant." – Peter N. (Sydney, Australia)
"Thanks, so far I'm loving it!" – Phoebe L. (Marshalltown, IA)
"Klima is working great! Thanks!" – Patti F. (Visalia, CA)
"I am very satisfied with the product and the result." – Sam D. (Appleton, WI)
"Thanks so much for all of your help. You are a miracle. You and these products have dramatically impacted my life. I'm so thankful I found you and these amazing products. Thanks again." – Sandra H. (Penn Hills, PA)
"Thank you for your product. My 19 year old daughter has had very strong underarm odor since she was six. The only thing that has helped her completely eliminate it is KLIMA. We will be your customers forever. Klima has made her so much more confident when she is out and about, it's wonderful to see her enjoying life without being so self conscious." – S. Maldonado (New York, NY)
"It's now been over 2 weeks since I started using the HyperDri GRIP and I have found it to be going well. I wouldn't say they are 100% dry, but I have found my hands to be much dryer for longer, and I can live with that." – Steven R. (Keilor, Australia)

"Things are going well. I apply Klima about every 4 days and I have been staying dry." – Miles B. (Wheaton, IL)
"The product is amazing. When I use it I am completely dry for the first time in my life! I only use about 1-2 sprays every 2-3 days. Thanks a million!" – Tyler K. (West Chester, PA)
"I have purchased all of these products for myself a few weeks ago and the combination has worked like a miracle for me right from the first day. I would also like to know if you have a distributor/reseller type program available since I would be very interested in promoting and selling the Klima products here in Canada because they have worked so successfully for me. If you have any such program available please let me know as I would very much like to sell your products here in Canada. Thank you and best regards." -Ed B. (Alberta, CA)
"Before I started using the Klima Magic Wand, my acne went through painful cycles. Sometimes even smiling was painful. Now, my face can clear up more quickly. And when my product malfunctioned, they immediately sent me a new one! Thanks KLIMA!" -K. Mercier (New York, NY)
---
"I just wanted to say that I am so thankful for your products! They actually work and I can go about my day with more confidence. Thank you :-)" - Jessica P. (Albany, NY)
"Yes, this ways very helpful. And a speedy response as always." - W. Houston (Ann Arbor, MI)

"HELLO TO MY FRIENDS AT KLIMA, I JUST WANT TO LET YOU KNOW HOW MUCH I LOVED YOUR
UNDER ARM DEODERANT,ITS BEEN A LONG TIME SINCE I HAVE
SMELLED FRESH LIKE THIS,I AM A PROFESSIONAL GUITAR PLAYER
AND I AM ALWAYS DEALING WITH PEOPLE CLOSE UP,NOW I HAVE
TO DEAL WITH MY FEET,CANT WAIT TO TRY YOUR OTHER PRODUCTS.
I WILL EVEN SEND YOU MY NEW CD OF ALL MY OWN ARRANGEMENTS
OF BEATLES SONGS. ALL THE BEST" - GREG G. (MASSACHUSETTS)
"I recently purchased the Klima confidence handspray and the Bonedri Grip and have been using it for 5 days now, and I LOVE IT! i just wanted to take the time to write this email to THANK YOU for changing my life. i have been suffering from palmar hyperhidrosis since i can remember and i think i have finally found a solution to this lifelong problem. thank you for your wonderful products once again. you gained another loyal customer. " - A. De La Cruz (Oak Park, IL)

Klima Featured in Glamour Fitness Magazine: http://www.glamour.com/health-fitness

FYI - Emily Canibano (one of the sample requesters) has written TWO fabulous reviews of Kilma products. One can be found in the Chicago Tribune's local Naperville section along with another great feature on skyyogastudio.com! Congrats on two fantastic features. We have provided the links below and will post to our Facebook page soon. Thanks so much!

DolceDolce Magazine (15,000 UVPM) has featured Klima in the "Beauty Intelligence" section of the website! Please check out the link and glowing review below. Congratulations on a wonderful feature!
The "Magic Wand" is a hand-held blue light device from Klima Health Solutions. It treats acne blemishes with a combination of deep heat and a specific wave length blue light. According to the manufacturers you will see "visible blemish clearing in one hour." They also claim that "within 24 hours, the Magic Wand eliminates or significantly reduces 90 percent of blemishes. Even for stubborn acne, the magic wand will shorten the healing time by more than half."
I tried TMW and I like it. I have tried other devices that claim to banish blemishes by using only heat or light. I found the combination of heat and light supplied by TMW worked best. I did use TMW frequently during the night to get results, but it did not irritate my skin. As a past acne sufferer, I have tried almost everything to clear blemishes. Of all the blemish banishing devices TMW is the best the best one I have tried.
This is a great investment if you suffer an occasional pimple or two. I doubt it would work effectively on deep cystic pimples. For this type of severe acne, you should consult an acne specialist. The device costs $99. The manufacturer says it will last about10 years. It operates on ordinary small batteries, and you never need to replace the tip, unlike other devices.
"I've had a big smile on my face this last few days – the below posts are from our forum member Jeff in South Carolina. I've asked if we can use the testimonials and he's more than happy for us to do so. Now, bask in the glory, kids!" - Verysweatybetty


"Monday 26/09/2011. Hello Beverly and Anne Thanks for the Klima i'm blown away with the product ! The second day i used it i noticed a hugh difference from drenched armpits to just a few spots ! This product is amazing, Klima is the real deal and i'm very impressed with this product already and it's only been two days ! Normally i would of been drenched in the armpits i just can't get over how good i feel right now. I can't wait to try the hands and feet products by Klima. The shipping was super fast and the product is A+. Thanks again Beverly and Anne"
"Wednesday 28/09/2011. After the 3nd day I have been sweat free not even a drop of sweat! Klima is amazing! This is such an awesome product I wasn't expecting it to work so fast for me at all. From drenched soaked armpits to bone dry! You guys made me a very happy man over here. I appreciate it alot and it's already changing my life. Thanks again Beverly and Anne."
"Received my first shipment of products yesterday and applied them last night. Well, I just want to say that I woke up with a dry pair of underwear and, heading towards the end of this work day, have had a dry butt all day!!! Dealing with this problem for seven months, I feel like a mini-miracle has taken place. So, THANK YOU. I'll let you know how things develop but, not even 24 hours into it, I'm thoroughly pleased." - Dave (Lancaster, PA)
"I have been keeping a journal, just wanted to let you know. Sweating but it has definatley improved. I will keep track for another month and then send you the journal" - R. Kimberly (Austin, TX)
"I received the "sample" set that you guys sent me of the acne product. OMG i LOOOOOOVE it. It is amazing what it has done for my skin. You guys have been a life safer both mentally and self esteem-wise. Thank you for the products that you carry! STILL your lifetime client, hopefully soon to include your skin care line. Thanks, - Nicole E. (Tempe, AZ)


"I LOVE that sample Eczema cream I picked up last week. The flare-ups on my hands are almost GONE and I'm in no more pain." KJ Lynn (Chicago, IL)
"I will be continuing to order these products through you as I am a satisfied customer. I am a pole dance for fitness instructor and have always suffered super sweaty hands which prevent me from completing long & difficult skill combinations on the pole. I have really noticed a difference since using the Hyperdry hand serum every night and for that I am really grateful. This is not an uncommon complaint amongst my students so I will be spreading the news of your product. Kind regards" - Andrea (Evanston, IL)

"Awesome customer service!" - Linette B. (Carlsbad, CA)

"I am a big fan of the Klima Hyper-Dri antiperspirant because it not only controls wetness, but is aluminum-free, which is important to me." - J. Stock (Tropic, UT)
"Like Always your products are the best so far. I am very happy to see that there are more products coming out. I wanted to let you know that i did recommended people and introduce them to klima. The lotion that i received for the red bumps in my back of arms are gone. Thank you so much for your wonderful products. I wanted to ask if you have any samples of the pads for underarm. That way we can buy more. My mom was fascinated by Klima underarm. Thank you once again." - J. Galeana (Chula Vista, CA)
"Thanks for everything and i still LOVE how much your KLIMA spray has helped me. Have a great night!" - N. Vonsgarod (Mpls, MN)
"It works wonders!!!! I will definitely keep you updated. Thanks again J" - E. Millet (Orange, CA)
"hello! i received my products Thursday night, AND I HAVE NOT SWEAT AT ALL FROM MY UNDER ARMS!!!!!! THANK YOU, YOU HAVE CHANGED MY LIFE!!!!!!!!!!!!!!!!!!!!!!!!!!!! and i will be a life long customer." – Samantha G. (Billings, MT)
"You have changed my life!!! It is 100 degrees where I live today and I haven't broke a sweat yet. I will be forever thankful to you and your company. As much as I sweat, I doubt the free samples would work.. But thank you for the offer!!
Best wishes." - Emily M. (Long Island, NY)
"Hi, I just wanted to thank you guys for a great product that truly does work. I have only used it for a week, but the difference is hugely noticeable. Well done, certainly worth the money. Regards" – Danny V. (Lansing, MI)
"Many thanks and I have to say how delighted I am with your products. I have suffered with sweaty feet for years and found buying new footwear very embarrassing because of this. No longer a problem! Absolutely fantastic." – Norma J. (Manchester, UK)
"Hi, the product has just arrived, thanks, the customer service was great." - Tomas G. (Miami, FL)
"Hi, Thanks, and I am beginning to notice a reduction in sweating since starting to use the Klima products. Thanks a lot and thank you for all your quick responses to my emails." - Ruth L (Zanesville, OH)
"I bought your magic wand, and it is a miracle worker! Thank you." – L. Cooper (Ames, IA)
"I have had a chance to try what I purchased which was the Klima antiperspirant and the deodorant booster. I've used the antiperspirant for about a year now and it works great. This is the first time buying the deodorant booster. I was very excited to find it on your website which I had not seen before. OMG - what a perfect product for those long days when you are unable to do a "soap and water" freshen-up. I've used it only once so far and it seemed to work well. Hopefully I won't have to use it often, but it is tremendously comforting to have it if the need arises. I have been tickled pink with your products. My self confidence in social situations has increased tremendously. And I hate to sound corny but this product really has changed my life for the better." - L. DeVance (Sacramento, CA)
"I bought your klima deodorant last month and was so happy as it worked for 2 weeks. My confidence was great and I could buy coloured clothes." – E. Grieg (Boise ID)
"Hello Mr. Kitchell, I can't tell you how much I appreciate your response, it's not often you get one directly from the President of the company." – K. Floyd (Fremont, CA)
"Hello, I have just posted my first review for your products. I just have to say that they are amazing and have changed my life. Thanks so much for giving me the opportunity. The link to my video is here...https://www.youtube.com/watch?v=xw3TJpNy11U I will have 2 more videos uploading very soon with the other 4 products. Let me know what you think. Thanks again." – Angie K (Ontario, Canada)
"I will never stop using this product, thank you, thank you, thank you for my self confidence back regarding my sweating!" – Nicole V (Hartford, CT)
"Dear Klima, Thank you so much for sending free care packages of your products to 14 UK soldiers in my husband's battalion. They hadn't received a single mail parcel while they have been out there." – Claire Foster (Surrey, UK)
"I received the DHL package today. Thank you! I can't believe how fast the shipping was. So far, I have tried the Bonedri and the Magic Wand; I love them both! Tomorrow I have the day off so I am going to read all of the documents you sent in the package. For the record, I think that the Magic Wand is INCREDIBLE! Wow, does it ever work! I actually just broke out and it has brought the swelling down on my blemishes." - Sarah S. (Cranbrook, BC)
"Thanks for the Klima. I am amazed at how effective it was. It worked for three days straight. I am a convert! - Debra S. (Middle Village, NY)
"Klima......Rocks! Thank you!!!!!!!!!!!!!!!! Simply signed, S. Mcray" (Chicago, IL)
"Hello, Thank you for sending the foot spray. I began using it and it seems to help! I will definitely reorder the product." - S.P. (Arlington, VA)
"Thanks so much. Your dedication to customer excellence is superior. I will recommend your company to others." - Alexander S. (Maplewood, MN)
"THANK YOU SOOOO MUCH for your prompt service. I received the package yesterday morning & used it for the first time last night ." - Sheena A (NSW, Australia)
"Thank you very much for the quick response! And yes it does help! Thanks again!" - J.R. (Ocean City, MD)
"Hi, I would first like to say thank you for this brilliant product. I have had it just over a week and I am already noticing a significant difference in how much (little) I now sweat." – D. Badminton (Hampshire, UK)
"Thanks for getting back to me soon. Great customer service. I received my products today and I cannot wait to use them." – L. Tucci (Portsmouth, VA)
"I have now received the shipment, and would like to thank you for your service, it is much appreciated. I would also like to give you my experience of the surefoot spray. When I went away recently I stayed in a very dry place and that was the first time I got to experience the efficiency of your product. It worked very well provided it got the chance to dry on my skin before my skin got wet." – J. Peterson (Frederiksburg, Denmark)
"My name is Jen Mitchell, and I am the Transition Coordinator at the Gifford School in Weston, MA. The Gifford School is a private day academy for students with learning, emotional, and behavioral disabilities. I wanted to thank Klima for sending us 60 care packages for our students! Sincerely, Jen Mitchell" (Weston, MA)
"Verdict? Klima works better than anything else on the market. I do have to use it every day but it doesn't irritate my skin like some less effective products do. Definitely a lifelong customer :)" – E. Potterton (Goffstown, NH)
"Your Klima product is amazing. I used it for the first time and I am very satisfied with it. It is so much better than the product we have here in Canada." – Sabur I. (Ontario, Canada)
"I am so grateful to you for sending the products out to me, Hyperdri and and the high five deodorant booster. I don't mind paying for a decent product and even if you cant help me, I am glad you are doing the work you are do, because you are clearly helping others and I wish I was in their position. Best Wishes" - Michael H. (Surrey, UK)
"Hi there, I tried the Klima you sent me and it works SO SO well! :) I appreciate the one on one customer service--something most companies out there are lacking! :)" – A. Mcbride (Olympia, WA)
"I used the product (Klima) and did like it - especially the fact that it is clear liquid. I gave it a "long stretch test" to see how long it would work and I did go for three days without washing it off , and it was still effective on the third day (e.g. no smell). Overall, I think its' a good product and I'll re-purchase it." - Deb B. (Middle Village, NY)
"First of all, thanks for such a prompt shipment. I received my order yesterday. I am totally satisfied with the deo-go product--it really works good. I have saved lots of tops of my daughters" – Sandy B. (Brook, IN)
"Thanks for living up to your word appreciate it! Regards" - Kiran R. (Tampines, Singapore)
"THANK-YOU! I received my product as scheduled. Thank you so much for your quick response. I love this product!!!!!!!!! Satisfied Customer, Sandi M." (North Randall, OH)